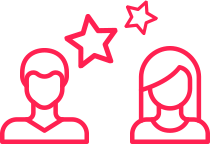 Pick Up
the Social Call
Brrring, brrring! Yep. It's your social life calling to ask for some changes. But no worries, we've got you covered. The Pub Story app is everything! It is fun, daring, social and free! Sounds like heaven, isn't it? Yes it is.

Simple Gameplay
To start playing, choose a game among many game decks. You'll need some kind of a person with you. A friend, a lover, a foe, a Kardashian? Start playing with that person. They'll need to download the app as well.

Unique, Social & Online-for-Offline
The Pub Story game experience is something else. We pave the way to unforgettable offline memories and conversations with a digital presence. The game is also a great way to separate your lovers from the haters.